Jobson James Rail brings together rail company directors and business managers for a nationwide networking event that takes place quarterly. As the lead sponsor and event organiser, Jobson James Rail is proud to offer the opportunity for attendees and exhibitors to meet with each other and discuss potential opportunities for the future.
Organised by rail professionals for rail professionals
Free to attend
Free from sales pitches and presentations
Pure networking event
If you would like to exhibit please click on the link to the RIN website and follow the instructions.
---
March 2021 RIN update
It is now a little clearer that corporate events are likely to be allowed to go ahead later this year, assuming no further Covid-19 unwelcome surprises.
However, we can see that Autumn will be a busy time for the rail calendar.
Railtex has been put back from May to early September and our own Rolling Stock Networking Event (RSN) has been put back from July to 30 September 2021.
We are concerned that, if we run a RIN event in September, then we will not get the footfall that our exhibitors would like as many in the industry will be recovering from 3 days at Railtex.
We do not wish to take money from any exhibitor unless we are certain that the event will be a success for them.
So our first event this year will be at York Racecourse which will take place on Thursday 18 November 2021.
This will follow the usual format – set up from 7.30am that day.
Early birds will get free bacon, sausage and egg rolls and there will be free tea and coffee for the duration of the event.
Open hours will be 9.30am to 12.30pm and we will vacate the venue by 1.15pm sharp.
The event is free to attend for those that book up and register their space.
Exhibitors can book their stand for £250+VAT. Each exhibitor gets a 2m table and 2 chairs, so there's plenty of room for pop-up banners and products.
Obviously if something changes with the virus we will be forced to review our plans and we will try and keep you all up to date on this and the RIN website.
Our priority will be to run a safe event for all and we hope that by then there will be no requirement for mask wearing and social distancing.
Our last York event (2019) had a footfall of 480 so we are hopeful that the rail industry family will return to support us.
The website can now take your bookings. Remember that exhibitors (and visitors) must enrol all of their staff as visitors so you all get your badges emailed to you.
Exhibitors and visitor railway companies can bring as many staff along to RIN as you like.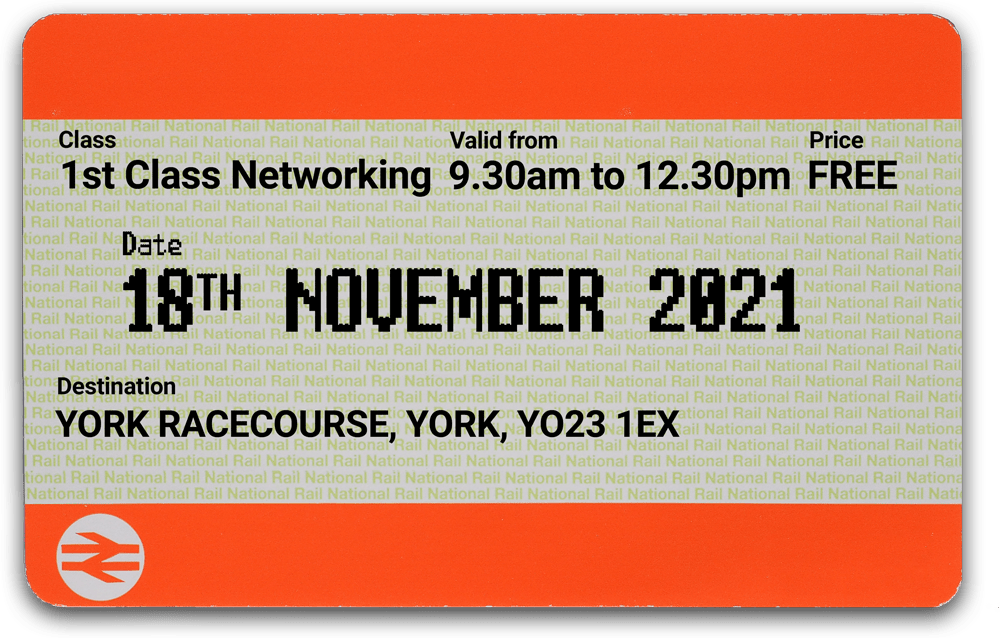 We hope that our 2022 events will go back to our regular calendar and we will be able to run a RIA Meet the Buyer event within the London and Derby events.
---
In respect of 2022 events here the dates for our planned events:
London will be on Thursday 10 March 2022 at the Business Design Centre Islington (Angel Tube), priced at £275 per exhibitor.
Wigan will be on Thursday 12 May 2022 at the DW Stadium. priced at £195+VAT per exhibitor (but subject to Wigan FC coming out of administration).
Derby will be on Thursday 8 September 2022 at the Derby Arena. priced at £260+VAT per exhibitor.
York will be on Thursday 17 November 2022 at the York Racecourse, priced at £260+VAT per exhibitor.
Our RIN team feel very positive to get our events back up and running so best wishes from Keven, Clare, Tim, Mave and John and we will hope to see you all at York in November.
---
Bringing railway infrastructure companies together, and putting your business on the right track to success.
Rail Infrastructure Networking events occur quarterly nationwide to ensure you do not miss the opportunity to grow your business. Be sure to secure your place and sign up to our email so you are the first to know of our new events.
What you should expect to get out of a Railway Infrastructure Networking event:
All of our events accommodate busy working diaries – you can turn up and leave as and when you want throughout the event
Invaluable networking opportunities – free of charge
Enjoy complimentary refreshments at all of our events
Opportunities to make new contacts and reinforce existing relationships
Keep up to date with the industry and competitors
Network with a wide range of businesses – all under one roof
No pitches, purely networking (contact details of all those registered for the event will be shared with attendees to facilitate ongoing networking)
Visit our dedicated RIN website for more information
.RIN Events is a trading name of Aston Lark Limited. We organise and manage the event on behalf of ourselves as lead sponsors and other sponsors. Aston Lark Limited is registered in England and Wales, No. 02831010. Authorised and regulated by the Financial Conduct Authority.