Jobson James Rail brings together rail company directors and business managers for a nationwide networking event that takes place quarterly. As the lead sponsor and event organiser, Jobson James Rail is proud to offer the opportunity for attendees and exhibitors to meet with each other and discuss potential opportunities for the future.
Organised by rail professionals for rail professionals
Free to attend
Free from sales pitches and presentations
Pure networking event
If you would like to exhibit then exhibitor slots start at £200 + VAT. Please click on the link to the RIN website and follow the instructions
---
**RIN WIGAN CANCELLED**
RIN Wigan is cancelled due to the COVID-19 outbreak.  We apologise to all visitors and exhibitors – Wigan is a great, friendly event and we are always made very welcome at the DW Stadium.
PLEASE NOTE: All exhibitors have the option of rolling forward their booking to one of the other RIN events in 2020 at Derby or York – which are the same price.
We look forward to seeing you all at RIN Derby in September.
---
Bringing railway infrastructure companies together, and putting your business on the right track to success.
Rail Infrastructure Networking events occur quarterly nationwide to ensure you do not miss the opportunity to grow your business. Be sure to secure your place and sign up to our email so you are the first to know of our new events.
What you should expect to get out of a Railway Infrastructure Networking event:
All of our events accommodate busy working diaries. Turn up and leave as and when you want throughout the event.
Invaluable networking opportunities free of charge
Enjoy complimentary refreshments at all of our events
Have the opportunity to make new contacts and reinforce existing relationships
Keep up to date with the industry and competitors
Network with a wide range of businesses all under one roof
No pitches, purely networking (contact details of all those registered for the event will be shared with attendees to facilitate ongoing networking)
Our next event: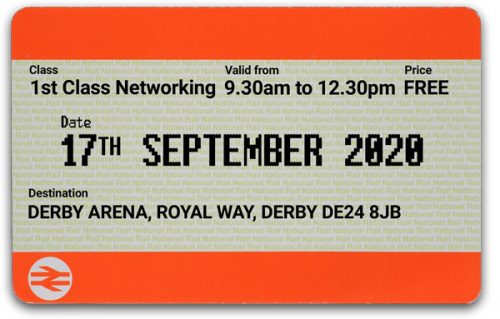 Thursday 17th September 2020, Derby Arena, Royal Way, Derby, DE24 8JB
Visit our dedicated RIN website here to book your place
.RIN Events is a trading name of Aston Lark Limited. We organise and manage the event on behalf of ourselves as lead sponsors and other sponsors. Aston Lark Limited is registered in England and Wales, No. 02831010. Authorised and regulated by the Financial Conduct Authority.